Copyright Matters
The Copyright Matters lecture series was founded by Register of Copyrights Maria A. Pallante in 2011 as a community forum to discuss the practical implications of copyright law in the 21st century and to provide education and training to the staff of the U.S. Copyright Office. Through the series, a wide range of invited speakers – including Congressional leaders, authors, market experts, and legal scholars – present topics of critical importance to the copyright debate. Lectures occur throughout the year at the historic Library of Congress and include discussions about authorship, copyright registration, marketplace investment, copyright enforcement, fair use, international norm setting, orphan works and other updates and revisions of copyright law for the digital age.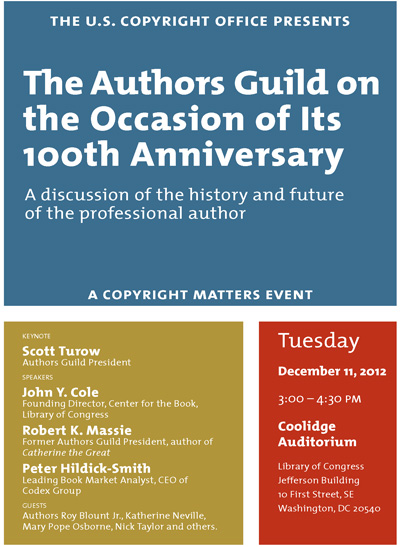 The Authors Guild on the Occasion of Its 100th Anniversary
December 11, 2012
3:00 - 4:30 PM
Coolidge Auditorium
Library of Congress
Jefferson Building

The U.S. Copyright Office is pleased to present a discussion of the history and future of the professional author.
Featuring:
Scott Turow, Authors Guild President
John Y. Cole, Founding Director, Center for the Book, Library of Congress
Robert K. Massie, Former Authors Guild President, author of Catherine the Great
Peter Hildick-Smith, Leading Book Market Analyst, CEO of Codex Group
Guests:
Authors Roy Blount Jr., Katherine Neville, Mary Pope Osborne, Nick Taylor and others