May 29, 2012

Press contact: Gayle Osterberg (202) 707-0020, [email protected]
Public contact: Jacqueline Charlesworth (202) 707-8772, [email protected]
Associate Register of Copyrights Michele Woods Appointed to WIPO
Register of Copyrights Maria A. Pallante has announced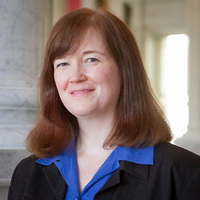 that Michele Woods, associate register for policy and international affairs, will be leaving the U.S. Copyright Office to join the World Intellectual Property Organization (WIPO) as director of the Copyright Law Division for the Culture and Creative Industries Sector.
Woods, a widely respected copyright lawyer whose role at the Copyright Office has included representation of the United States at WIPO and in international trade negotiations, will assume her duties in Geneva on June 4, 2012. Woods' appointment to WIPO is for a two-year term.
At WIPO, Woods will be responsible for advising member states on implementation of copyright treaties in national law and will work with the Standing Committee on Copyright and Related Rights. Woods will participate in a diplomatic conference in Beijing at which WIPO member states will consider adoption of a long-anticipated treaty governing audiovisual performances.
"Michele's intellect and leadership will be greatly missed at the Copyright Office, not only by her colleagues here, but by the copyright community in general. I have no doubt, though, that she will continue to make significant contributions to the development of copyright law during her tenure at WIPO," said Pallante.
David J. Kappos, under secretary of commerce for intellectual property and director of the U.S. Patent and Trademark Office, said, "This appointment is a point of pride for the entire U.S. government and, indeed, the world community. I am thrilled for Michele and for all of us who value intellectual property."
Woods was appointed associate register for policy and international affairs in 2011, after filling that role on an acting basis for a year. Drawing on her extensive work in the international copyright arena, Woods represented the Copyright Office on many U.S. bilateral and multilateral delegations and on the Special 301 Sub-Committee of the U.S. Trade Representative.
Woods also oversaw domestic policy matters, playing an instrumental role in the Office's review of the proposed Google Books settlement and its analysis of issues arising from the mass digitization of copyrighted works. Woods joined the Copyright Office in 2009 as senior counsel.
Prior to joining the Copyright Office, Woods had been in private practice, most recently at the law firm Arnold & Porter LLP, where she was counsel in the Intellectual Property and Technology Group. She earned her J.D. and an LL.M. degree from the Duke University School of Law. A graduate of Princeton University, she also holds a master of studies from Oxford University.