Nimmer on Copyright: Celebrating 50 Years
---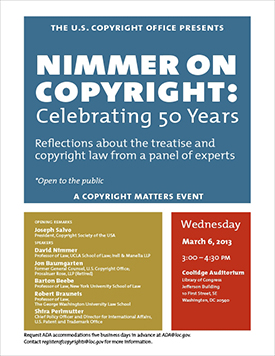 The U.S. Copyright Office hosted a Copyright Matters program on May 6, 2013, at 3:00 p.m. in the Coolidge Auditorium of the Library of Congress. A panel of experts addressed "Nimmer on Copyright: Celebrating 50 Years" with reflections about the treatise and copyright law. The panel was moderated by Karyn A. Temple, associate register of copyrights and director of policy and international affairs, and includes David Nimmer, UCLA School of Law and Irell & Manella LLP; Jon A. Baumgarten, former general counsel in the Copyright Office; Peter S. Menell, professor of law at the University of California Berkeley School of Law; Robert Brauneis, professor of law at The George Washington University Law School; and Shira Perlmutter, chief policy officer and director for international affairs at the U.S. Patent and Trademark Office. The event was hosted by Maria A. Pallante, Register of Copyrights. Joseph Salvo, president of the Copyright Society of the USA, will give opening remarks. The event was free and open to the public.
---
Jon Baumgarten
After graduating from New York University School of Law in 1967 under the tutelage of the renown dean of American copyright law at the time, Prof. Walter J. Derenberg, Mr. Baumgarten spent almost a decade in the private practice of copyright law, litigation, and policy. Appointed General Counsel of the United States Copyright Office in January 1976 by famed U.S. Register of Copyrights Barbara Ringer, Mr. Baumgarten was a leading participant in the final formulation of the general revision of the U.S. Copyright Act and was responsible for the novel and comprehensive rulemakings and thorough overhaul of all Copyright Office regulations and practices required under the new law. Mr. Baumgarten represented the Copyright Office before courts, Congressional committees and the Department of State and as liaison to the National Commission on New Technological Uses of Copyrighted Works (CONTU), represented the U.S. Government in the World Intellectual Property Organization, and other international copyright forums.
Mr. Baumgarten returned to private practice in 1980. In the course of a distinguished career representing individuals, companies, leading trade associations, and international consortia and lasting for more than four decades until his retirement from the firm of Proskauer Rose in 2011, Mr. Baumgarten was a leading figure on the scene of copyright's dramatic encounters with changing technology and international trade. He led and participated as prevailing counsel in many of the most important copyright cases decided during that period including among others: Mosley v. Follet (SDNY; use of fact works; estoppel as facts); Lottie Joplin Thomas Trust v. Crown Publishers (SDNY & 2d Cir; changing economies and estoppel); American Geophysical Union v Texaco (SDNY & 2d Cir; corporate photocopying); Basic Books v. Kinkos (SDNY; coursepacks); Princeton University Press v. Michigan Document Services (coursepacks; 6th Cir en banc); Matthew Bender v. Jurisline.com (SDNY; database protection; contract preemption); Universal City Studios v. Corely/Reimerdes (SDNY & 2d Cir; DVD decryption; DMCA interpretation and constitutionality; copyright and First Amendment); Religious Technology Center v. Lerma (ED Va; fair use in newspapers); Silvers v Sony Pictures (copyright standing; 9th Cir en banc); and Reed Elsevier v Muchnick (US Sup Ct; copyright registration and jurisdiction). While at the Copyright Office, Mr. Baumgarten successfully argued for the Office and Library of Congress major cases of copyright doctrine -- Esquire v. Ringer (DDC; applied design) and Eltra v. Ringer (ED Va & 4th Cir; typeface design; constitutionality of Copyright Office). He later served as a private sector member of the Ad Hoc Committee on Adherence of the United States to the Berne Convention and private sector advisor to Government science and technology policy bodies.
Although professionally born into analog-era and national-centric copyright law, with the advent of digital technology and growing international piracy and trade in IP, Mr. Baumgarten extensively lectured and litigated on copyright aspects of then newly emerging computer law. He was a leader in the development of trade-based international copyright standards and multi-industry negotiation of guidelines and of the SCPA, DMCA, and other legislation pertaining to copyright and new technology. He counseled and led teams of businesspersons and technologists in the development, negotiation, and litigation of cross-industry technical standards and solutions for content protection.
Robert Brauneis
Robert Brauneis is Professor of Law and Co-Director of the Intellectual Property Law Program at The George Washington University Law School. He is the co-author of the casebook "Copyright: A Contemporary Approach," and the author of numerous articles on copyright, trademark, and other legal topics. After graduating from Harvard Law School, he served as a law clerk to Judge Stephen G. Breyer of the U.S. Court of Appeals for the First Circuit (now Justice Breyer), and to Justice David H. Souter. Professor Brauneis is also a member of the Managing Board of the Munich Intellectual Property Law Center and co-chair of the DC Chapter of the Copyright Society of the U.S.A. In 2007-08, he served as President of the Giles S. Rich American Inn of Court.
Karyn A. Temple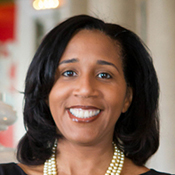 Karyn A. Temple is the Associate Register of Copyrights and Director of Policy and International Affairs for the United States Copyright Office (USCO). She was appointed to the position in 2013.
In her position, Temple assists the Register with critical policy functions of the USCO, including domestic and international policy analyses, legislative support, and trade negotiations. She directs the Office of Policy and International Affairs, which represents USCO at meetings of government officials concerned with the international aspects of intellectual property protection, and provides regular support to Congress and its committees on statutory amendments and construction.
Prior to joining USCO, Temple served as Senior Counsel to the Deputy Attorney General of the United States, where she assisted with the formulation of Department of Justice policy on sensitive legal issues, and helped manage the Department of Justice's Task Force on Intellectual Property. She also spent several years in private practice as Vice President, Litigation and Legal Affairs for the Recording Industry Association of America and at the law firm Williams & Connolly, LLP. She began her legal career as a trial attorney for the U.S. Department of Justice's Civil Division through its Honors Program and also served as a law clerk to the Honorable Nathaniel R. Jones of the U.S. Court of Appeals for the Sixth Circuit.
Peter S. Menell
Peter S. Menell is the Robert L. Bridges Professor of Law at the University of California at Berkeley School of Law and a Director of the Berkeley Center for Law and Technology. He serves on a part-time basis as one of the inaugural Thomas Alva Edison Visiting Professionals at the U.S. Patent and Trademark Office. Professor Menell earned his S.B. from the Massachusetts Institute of Technology, his M.A. and Ph.D. in economics from Stanford University, and J.D. from Harvard Law School, where he served as a member of the Harvard Law Review. After graduating from law school, he clerked for the Honorable Jon O. Newman of the U.S. Court of Appeals for the Second Circuit.
Professor Menell joined the law faculty at the University of California at Berkeley in 1990, where his research and teaching have focused on the fields of intellectual property and the digital technology and entertainment industries, as well as environmental law and policy, property law, and law and economics. He founded the Berkeley Center for Law and Technology in 1995 and served as Executive Director from 1999 to 2005.
Professor Menell has authored or co-authored more than 50 articles and eight books, including leading casebooks on intellectual property and Internet law. Since 1998 he has organized more than 40 intellectual property education programs for the Federal Judicial Center, including an annual multi-day program on "Intellectual Property in the Digital Age." He has advised the U.S. Congress, federal agencies, state attorneys general, and major technology and entertainment companies on a wide range of intellectual property and antitrust matters. He is Vice-Chair of the National Academy of Sciences project on copyright and innovation. He has submitted amicus briefs in leading intellectual property cases and consulted and served as an expert witness on a variety of intellectual property matters in state, federal, and foreign tribunals. He writes regular commentaries on copyright law and policy that appear on the Media Institute website.
David Nimmer
David Nimmer, of UCLA Law School and Irell & Manella LLP, teaches copyright law and represents clients in the entertainment, publishing, and high-technology fields. In 2013, Best Lawyers magazine named him Los Angeles Litigation Intellectual Property "Lawyer of the Year" and he was also selected as a Southern California "Super Lawyer" by Los Angeles Magazine in 2006-2012. He has given congressional testimony on behalf of the United States Telephone Association and the National Association of Broadcasters, and Parliamentary testimony on behalf of the Combined Newspaper and Magazine Copyright Committee of Australia in Sydney.
Besides his authorship since 1985 of Nimmer on Copyright, now celebrating its 50th anniversary, he has authored a series of influential articles and contributions to books. Kluwer Law International has published two anthologies based on those articles, Copyright: Sacred Text, Technology, and the DMCA (2003) and Copyright Illuminated (2008). In addition, Oxford University Press will publish his forthcoming volume From Maimonides to Microsoft: The Jewish Law of Copyright Since the Birth of Print (coauthored with Neil Netanel).
He received an A.B. with distinction and honors in 1977 from Stanford University and his J.D. in 1980 from Yale Law School, where he served as an editor of the Yale Law Journal.
Shira Perlmutter
Shira Perlmutter is the Chief Policy Officer and Director for International Affairs at the USPTO. In that position, Ms. Perlmutter serves as a policy advisor to the Under Secretary of Commerce for Intellectual Property and oversees administration and support for all domestic and international IP policy-related operations; congressional and legislative engagement, as carried out by the Office of Governmental Affairs; education and training, as carried out under the Global Intellectual Property Academy (GIPA); global IP leadership through administration of the IP Attaché Program; and economic analysis, as carried out by the Chief Economist.
Before joining the USPTO, Ms. Perlmutter was Executive Vice President for Global Legal Policy at the International Federation of the Phonographic Industry (IFPI). Prior to that, she held the position of Vice President and Associate General Counsel for Intellectual Property Policy at Time Warner.
Ms. Perlmutter previously worked at the World Intellectual Property Organization (WIPO) in Geneva as a consultant on the copyright issues involved in electronic commerce. In 1995, she was appointed as the first Associate Register for Policy and International Affairs at the U.S. Copyright Office. She was the copyright consultant to the Clinton Administration's Advisory Council on the National Information Infrastructure in 1990 to 1995.
Ms. Perlmutter is a Research Fellow at the Oxford Intellectual Property Research Centre at Oxford University, and a lecturer at King's College, University of London. From 1990-95, she was a law professor at The Catholic University of America, teaching Copyright Law, Trademarks and Unfair Competition, and International Intellectual Property Law. Previously, she practiced law in New York City, specializing in copyright and trademark counseling and litigation. She is a co-author of a leading casebook on International Intellectual Property Law and Policy, and has published numerous articles on copyright issues.
Ms. Perlmutter received her A.B. from Harvard University and her J.D. from the University of Pennsylvania.
Joseph P. Salvo
Joseph P. Salvo currently serves as general counsel of Hit Entertainment and vice president and assistant general counsel for Mattel Legal. Hit Entertainment is an international children's entertainment company that owns such preeminent preschool brands as Barney, Thomas the Tank Engine, Bob the Builder, and Angelina Ballerina. Hit is involved in all forms of production and licensing, including television, film, audio, home video, and consumer products.
Prior to becoming general counsel to Hit, Salvo spent 13 years working for a combination of Sony Music, Arista Records, and Sony BMG Music Entertainment, where he was involved in a wide variety of contract, licensing, and intellectual property issues. He personally handled contract negotiations and drafting for such diverse artists as Bruce Springsteen, Celine Dion, Whitney Houston, Yo-Yo Ma, and John Mayer.
Salvo also served as special counsel at Weil Gotshal and Manges from 2006 to 2008. There he counseled many of the largest Internet music service providers on international publishing and sound recording rights issues. His clients included Apple, MySpace, Yahoo, AOL, Pandora, MediaNet, and Sony. He coordinated the trial team for the United Kingdom (UK) Copyright Tribunal proceeding that set the first-of-its-kind UK publishing rates for Internet distribution of music.
Salvo also serves as a trustee and president of the Copyright Society of the U.S.A. and is an adjunct professor of law at St John's University School of Law in New York City.