Recordation System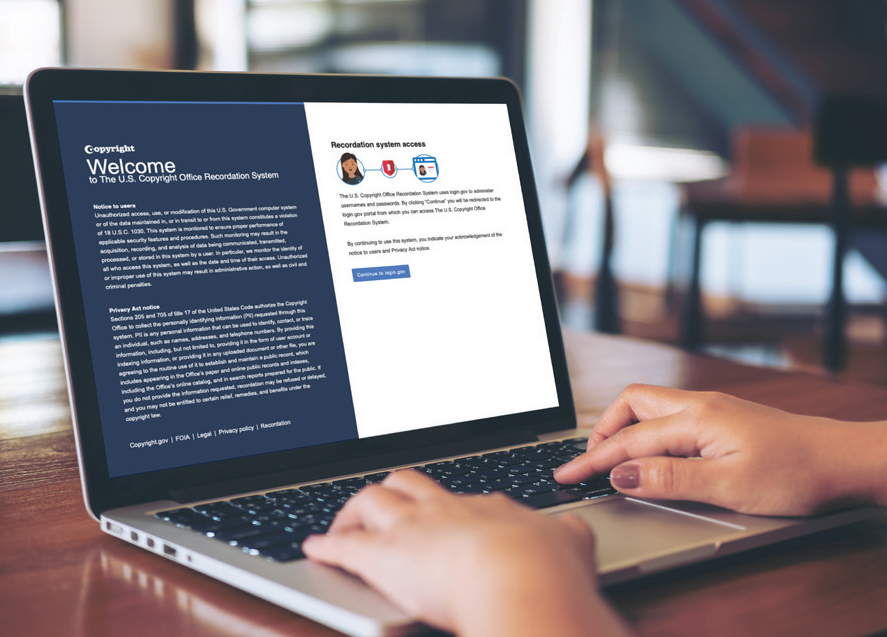 Using the Recordation System
The new Recordation System allows users to electronically submit transfers of copyright ownership and other documents pertaining to a copyright for recordation. Use of the Recordation System is optional and is governed by 37 CFR § 201.4(h) and the Special Pilot Program Rules. While the public may continue to submit transfers of copyright ownership and other documents pertaining to a copyright for recordation in paper form, the Office strongly encourages participation in the electronic system. Any member of the public may now electronically submit certain types of documents for recordation to the Office through this system by creating an Enterprise Copyright System (ECS) account through Login.gov, which serves as the user login and authentication method. Pay.gov is used for all system transactions.
The Recordation System supports all documents pertaining to a copyright under section 205 of Title 17 including the following:
Affidavit/declaration/certification
Assignment
Change of address
Change of name
Counter-notice
Court order
Exclusive license
Mortgage/security agreement
Non-exclusive license
Will
The Recordation System has many features and benefits:
self-service account and organization management
online submission for transfers and other documents pertaining to copyright under 17 USC § 205
online payment via Pay.gov
digital certificate and numbered document available online
online status tracking
centralized messaging center for correspondence
notifications and alerts for key events
easy search of submissions
faster processing time than paper submission
bulk upload of works indexing information
Documents not yet supported by the system:
Compatibility
Documents with more than 10,000 works, including alternate identifiers, are not eligible at this time and will be rejected. Please use the paper submission process for documents containing more than 10,000 works.
The Recordation System is compatible with most modern browsers, such as Chrome, Firefox, and Edge. The system does not support Internet Explorer.
Users can upload works information in bulk via a new spreadsheet available in the Recordation System. The system does not support the electronic title list (ETL) spreadsheet template that is part of the paper-based submission system.
Do not upload copies of the Form DCS. The Recordation System captures all necessary information for recording and certifying documents. The Office will reject any submissions that include a Form DCS, and applicants will need to refile and pay an additional base filing fee.
The Office will also reject any submission involving an unsupported document and retain the base filing fee.