Compendium of U.S. Copyright Office Practices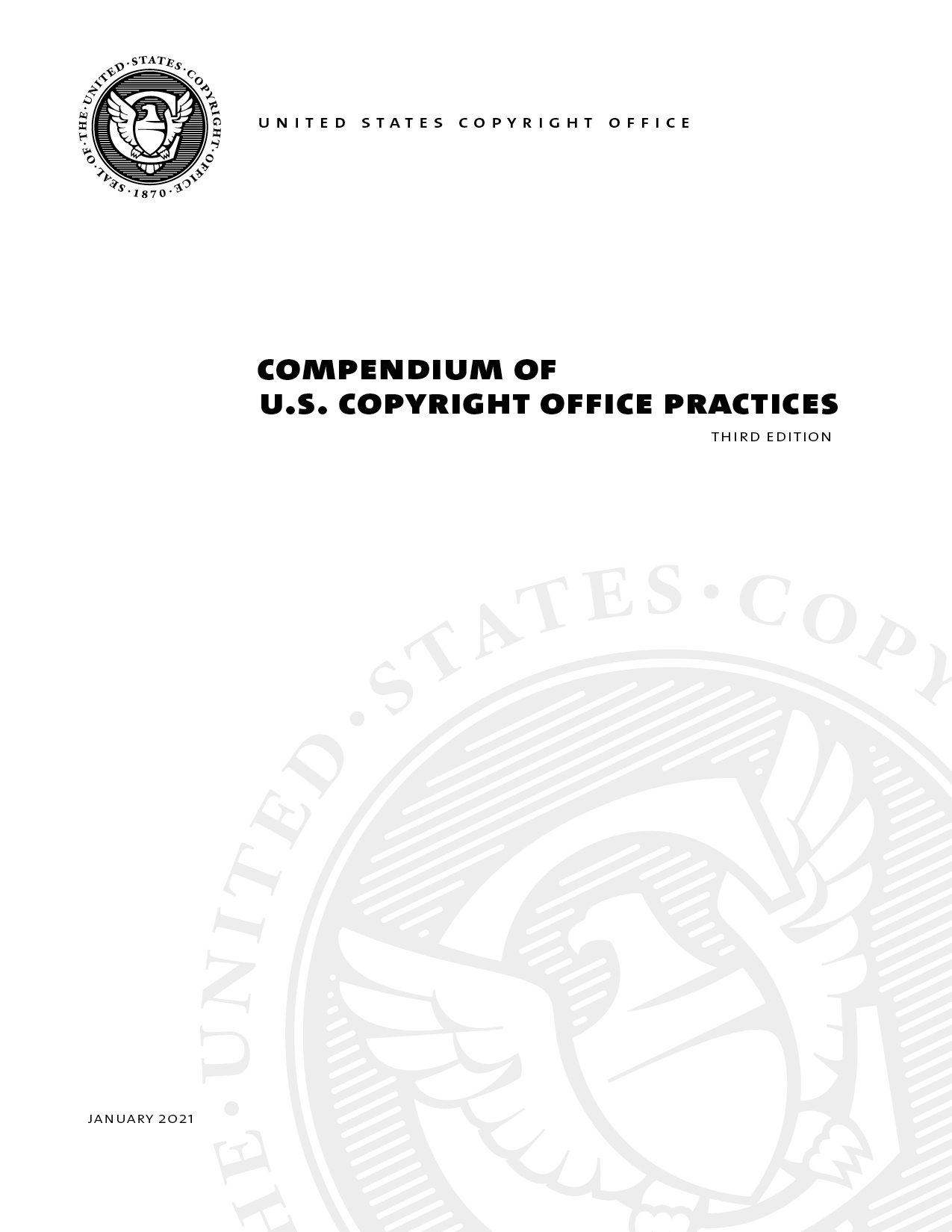 Register of Copyrights Shira Perlmutter has released an updated version of the Compendium of U.S. Copyright Office Practices, Third Edition. This update is effective as of January 28, 2021, and it is the governing administrative manual for registration and recordations issued by the U.S. Copyright Office on or after that date. Read more.
Important Note
The Compendium does not cover every principle of copyright law or detail every aspect of the Office's administrative practices. In particular, this update does not reflect changes made by the recent interim rules on recordation or secure tests.
2021 Compendium full text (1,396 pages)
---
Citing the Compendium
Full citation
U.S. Copyright Office, Compendium of U.S. Copyright Office Practices § 101 (3d ed. 2021).
Short form citation
Compendium (Third) § 101.1(A).
---
Revision History
The Office has prepared a complete list of the sections that have been added, amended, revised, or removed in this release. In addition, the Office has prepared a set of redlines, which provide a direct comparison between the current version and the 2017 version of the Compendium. The public draft released on March 15, 2019, may be accessed here. Read more.
---
Access Prior Editions
The Office makes available archived versions of the Compendium, which were released by the Office from 1967 onwards. Read more.
Chapters
Introduction:

Chapter 100:

Chapter 200:

Chapter 300:

Chapter 400:

Chapter 500:

Chapter 600:

Chapter 700:

Chapter 800:

Chapter 900:

Chapter 1000:

Chapter 1100:
Chapter 1200:

Chapter 1300:

Chapter 1400:

Chapter 1500:

Chapter 1600:

Chapter 1700:

Chapter 1800:

Chapter 1900:

Chapter 2000:

Chapter 2100:

Chapter 2200:

Chapter 2300:

Chapter 2400:
---
Glossary
Table of Authorities