Quoth the Raven: Edgar Allan Poe & Derivative Works
---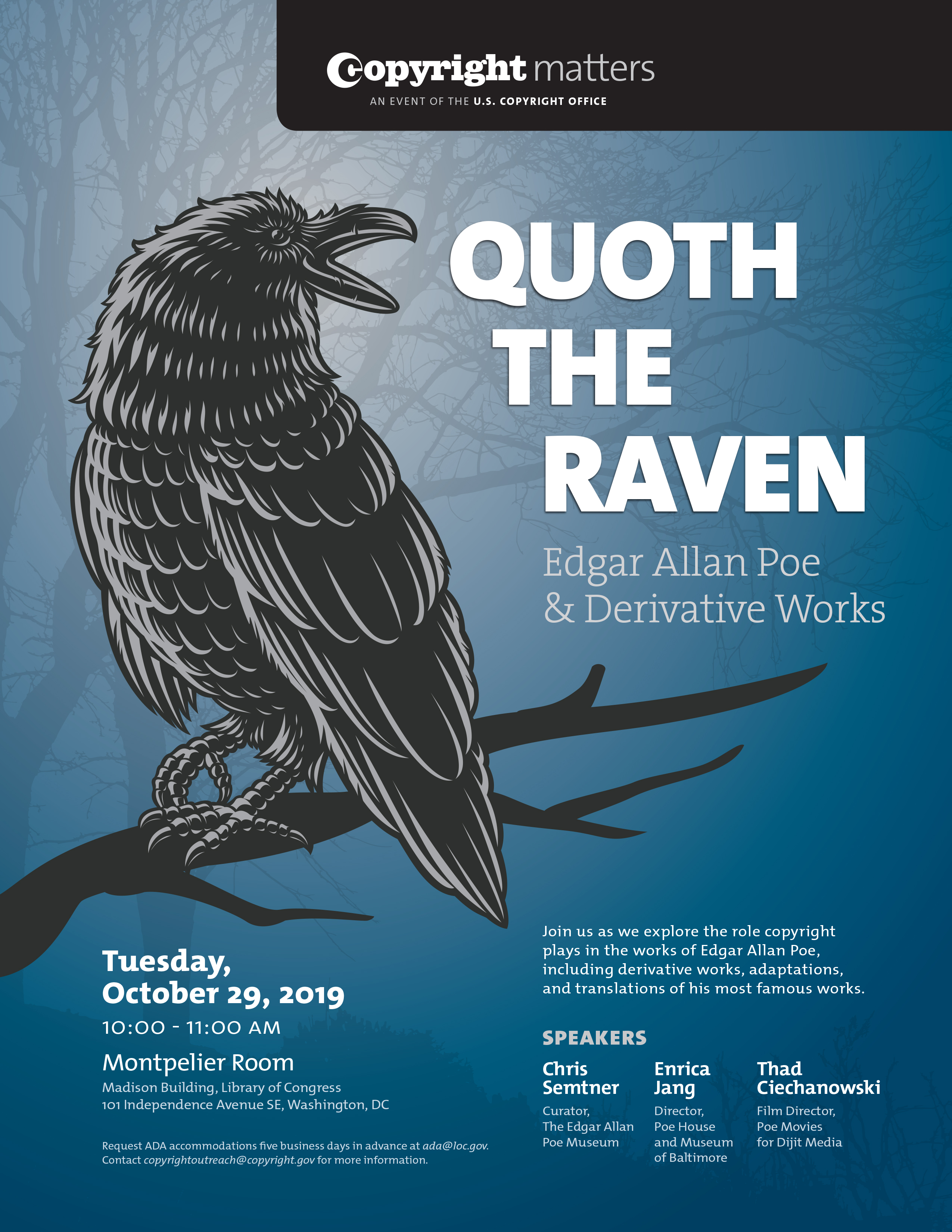 Come join us to celebrate the work of Edgar Allan Poe on October 29, at 10:00 am in Montpelier Room of the Library of Congress. During this Copyright Matters Event, we will discuss Poe's advocacy for copyright law, the breadth of his impact, and the many derivative works it has inspired. More than 300 comic books adaptations of Poe's work exist, plus many works use Poe's character as an inspiration. Moreover, Poe was a strong advocate for copyright protections, especially in the international arena.
After a brief introduction and recitation of The Raven, speakers (see below) will talk about Poe, his life, his works, and the many creative works spawned by his creations.
Christopher Semtner, curator of the Edgar Allan Poe Museum in Richmond, VA. Semtner is an author and editor of several books on art, history, and literature, including The Poe Shrine: Building the World's Finest Edgar Allan Poe Collection.
Enrica Jang is Executive Director at Poe Baltimore / The Edgar Allan Poe House & Museum in Baltimore. She is director of the International Edgar Allan Poe Festival & Awards, featuring the Saturday 'Visiter' Awards, a new honor recognizing outstanding creative works adapting or inspired by the life and writing of Edgar Allan Poe. An enthusiast long before she joined Poe House, Enrica has both written and edited books, graphic novels and anthologies inspired by Poe's works.
Thad Ciechanowski, owner of Dijit Media, is a filmmaker, director, and editor. He has directed and edited short, educational films based on Edgar Allan Poe's works, including The Raven and The Cask of Amontillado.