Reach for Gold: Copyright and Sports
---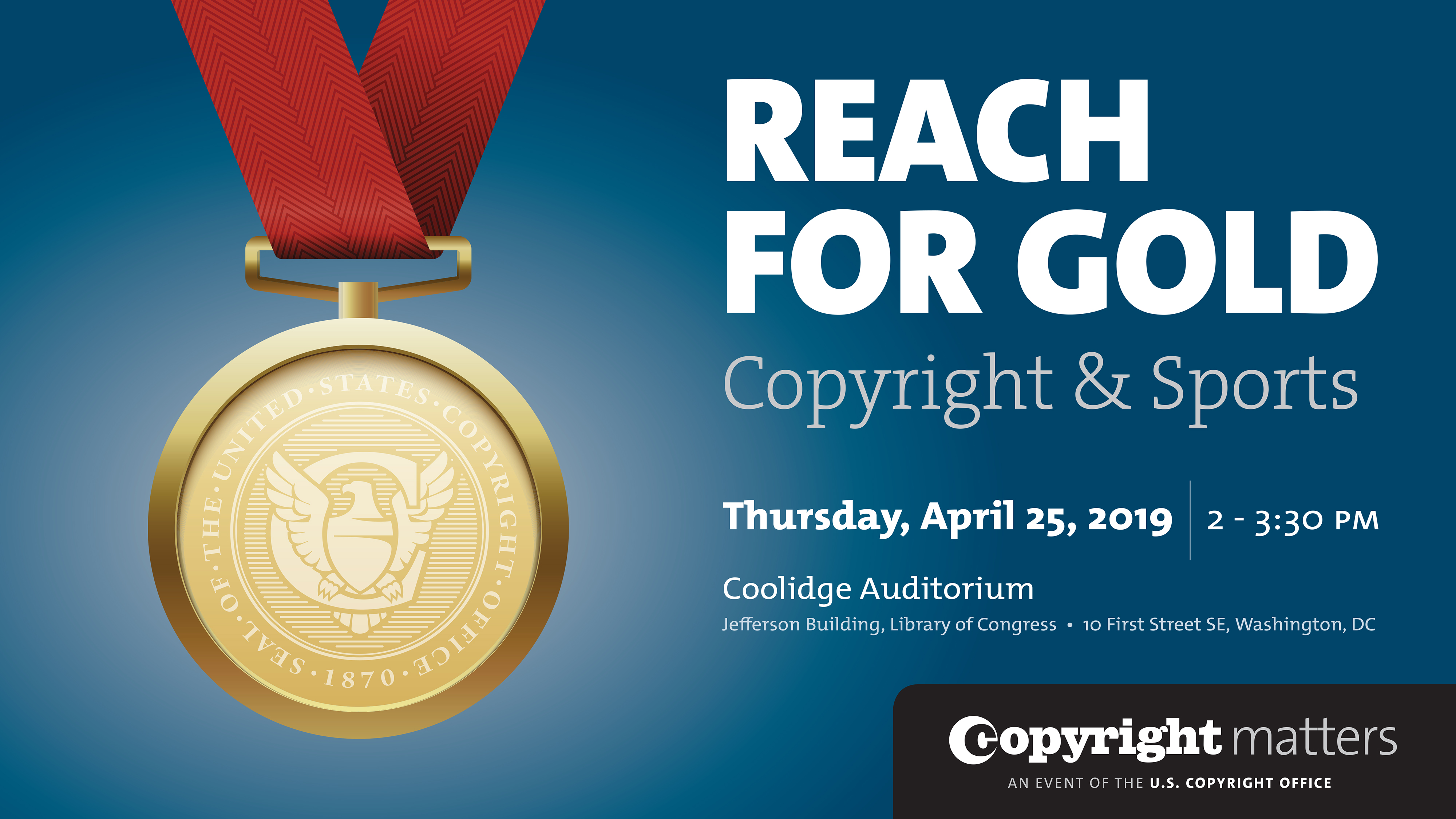 Celebrate World IP Day 2019 with the Copyright Office
Register
The U.S. Copyright Office will celebrate World Intellectual Property Day with a special event on Thursday, April 25, 2019 at 2:00 p.m. eastern time in the historic Coolidge Auditorium in the Jefferson Building in Washington, DC. This year's theme, as announced by the World Intellectual Property Organization (WIPO), is "Reach for Gold: IP and Sports."
The Copyright Office's program will explore the unique and sometimes surprising relationship between sports and copyright. We will look at different points at which sports and copyright intersect, including how people watch games from home, the various ways athletes work with copyright to develop merchandise and more, and the burgeoning world of esports.
Featured speakers include Derrick Heggans, founder and CEO of Global Sports and Entertainment Business Academy (GSB Academy); Delara Derakhshani, counsel, tech policy, Entertainment Software Association; and Robert Garrett, senior counsel, Arnold & Porter.
This event will also be livestreamed.
We will continue our celebration of World IP Day Saturday, April 27, at 10:30 a.m. with a special copyright-focused Story Time at the Young Readers Center at the Library of Congress. We'll use song, stories, and activities to introduce copyright concepts and highlight the power of taking ideas and making them into creative works. This event is great for families with children from 5 to 10 years old.
World Intellectual Property Day, observed on April 26th since 2000, marks the date in 1970 when the WIPO Convention came into force. The anniversary of this occasion is observed as a way of promoting and increasing general understanding of intellectual property. This program is part of the Copyright Matters lecture series and is free and open to the public.
Request ADA accommodations five business days in advance at (202) 707-6362 or [email protected].