World Intellectual Property Day
---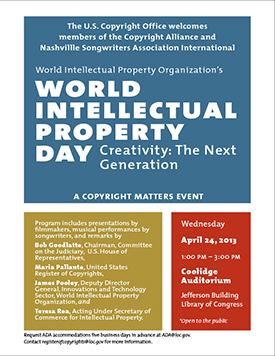 The U.S. Copyright Office hosted a Copyright Matters program in recognition of World Intellectual Property Day on Wednesday, April 24, at 1:00 p.m. The program was held in the Coolidge Auditorium of the Thomas Jefferson Building of the Library of Congress and was free and open to the public. This year's theme, as announced by the World Intellectual Property Organization, is "Creativity: the Next Generation."
The program featured performances from members of the Nashville Songwriters Association International, including NSAI President Lee Thomas Miller ("You're Gonna Miss This," recorded by Trace Adkins), Jessi Alexander ("The Climb," recorded by Miley Cyrus), and Brett James ("Jesus Take the Wheel," recorded by Carrie Underwood). Copyright Alliance presented several filmmakers, including mother-daughter filmmaking team Gail Mooney and Erin Kelly, who showed and discussed their 2011 documentary Opening Our Eyes, detailing their 99-day journey around the world to seek out and tell the story of nine ordinary people making a positive difference in the world. Fourth-grade filmmaker Zachary Maxwell, who began making web videos in preschool and screening his works at film festivals at age eight, also showed and discussed his short film Yuck: A 4th Grader's Short Documentary about School Lunch.
Register of Copyrights Maria A. Pallante spoke, as well as Representative Bob Goodlatte, chairman of the House Judiciary Committee, James Pooley, deputy director general of the Innovation and Technology Sector of the World Intellectual Property Organization, and Teresa Rea, acting under secretary of commerce for intellectual property.
---