Advancing Inclusion in Copyright and Register Barbara Ringer's Legacy
---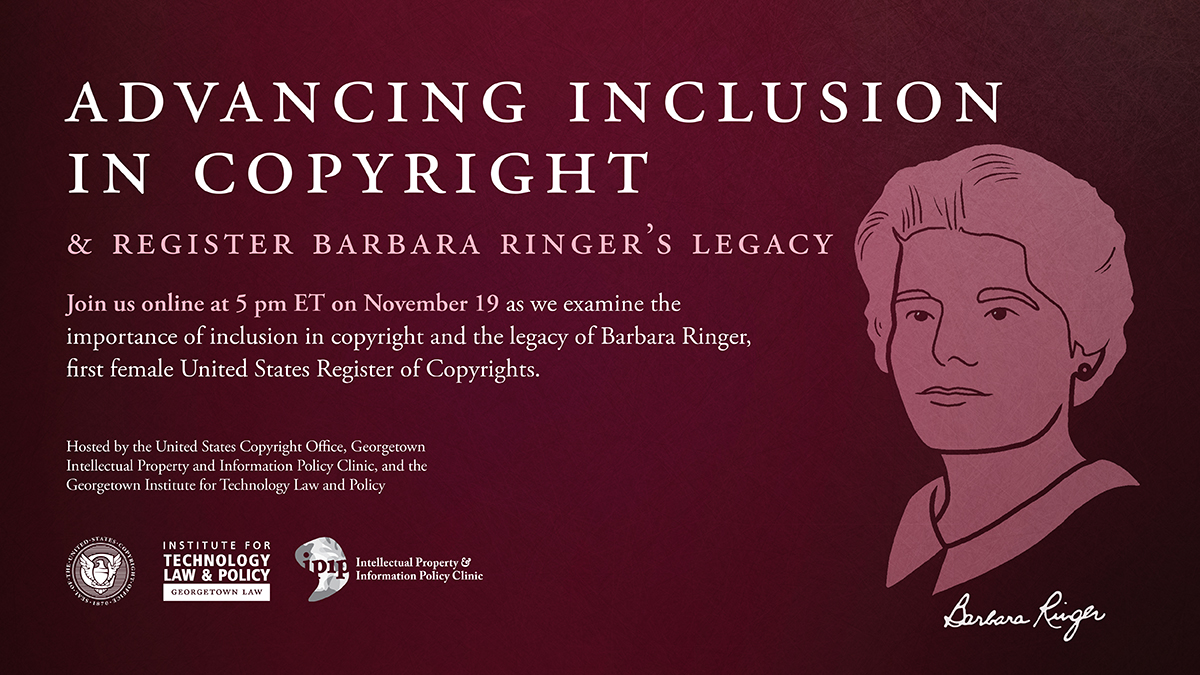 November 19, 2020 5:00 p.m. eastern time
Networking reception to follow
Join the U.S. Copyright Office, Georgetown Intellectual Property and Information Policy Clinic, and Georgetown Institute for Law and Policy as we examine the importance of creating space and opportunities in copyright and developing more diverse and inclusive legal systems for the benefit of all. This event extends and builds on the legacy of Barbara Ringer, a lead architect of the Copyright Act of 1976 and the first woman to serve as U.S. Register of Copyrights, who invested in building broader representation during her tenure.
During the event, we will host a discussion with leading scholars on the relationship between intellectual property and critical race and feminist theory.
Deidré A. Keller, dean and professor of law, Florida Agriculture & Mechanical University College of Law
Madhavi Sunder, professor of law, Georgetown Law Center
Victoria Phillips, director, Glushko-Samuelson Intellectual Property Law Clinic, American University Washington College of Law
Register of Copyrights and Director of the U.S. Copyright Office Shira Perlmutter will provide opening remarks.
Amanda Levendowski, associate professor of law at Georgetown Law and director of the Intellectual Property and Information Policy Clinic, will provide a brief overview of Ringer's impact on copyright.
Current and former U.S. Copyright Office Ringer Fellows will host break-out networking sessions that will follow the approximately one hour event.
Barbara Ringer earned her law degree from Columbia University and joined the Office in 1949 as an examiner. She moved through the ranks to lead the Examining Division and then become Assistant Register of Copyrights in 1966. Then, after initially being passed up for the job in favor of a less-qualified man, she successfully sued the Library and was named Register of Copyrights on November 19, 1973. Through much of her time in the Office, she worked as the principal architect of the 1976 Copyright Act, which was the first major revision to copyright law since 1909. Once President Ford signed the Copyright Act into law, Ringer led the effort to implement the sweeping changes.
In addition to her brilliant copyright law career, Ringer was a champion for women's rights in the workplace. The use of both male and female pronouns in the text of the Copyright Act was done at Ringer's insistence. Colleagues remembered Ringer as an advocate for part-time work schedules, women's programs, and a childcare center.
Ringer also was a champion for racial equality. Ringer's lawsuit claimed she was passed up for the Register's position based on sex and racial discrimination. She fought against discriminatory practices, publicly advocating for the rights of African Americans in the Copyright Office.
---