U.S. Copyright Office Welcomes New Register
Issue No. 857 - October 26, 2020
---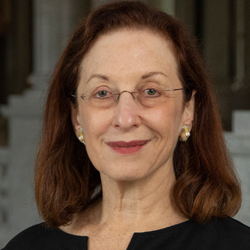 The U.S. Copyright Office welcomes Shira Perlmutter today as 14th Register of Copyrights and Director of the U.S. Copyright Office. Librarian of Congress Carla Hayden presided over Perlmutter's oath of office in which, among other obligations, she swore to uphold the Constitution of the United States, which is the foundation for federal copyright law.
Perlmutter steps into the role during the Office's 150th anniversary year at a time in which important forward-focused projects, such as copyright modernization, are at the forefront. In her first weeks, Perlmutter will be meeting staff, participating in public presentations, and taking on the management of ongoing programs and initiatives. She looks forward to engaging with a wide range of stakeholders and hearing about their priorities and concerns in the coming weeks and months.
Perlmutter has served since 2012 as Chief Policy Officer and Director for International Affairs at the United States Patent and Trademark Office (USPTO), working in all areas of intellectual property, including copyright. From 1995 through 1999, Perlmutter served as the Associate Register for Policy and International Affairs at the U.S. Copyright Office. Read more about her career here.