Copyright Office's New Group Registration Option for Short Online Literary Works (GRTX) Goes into Effect
Issue No. 859 - October 29, 2020
---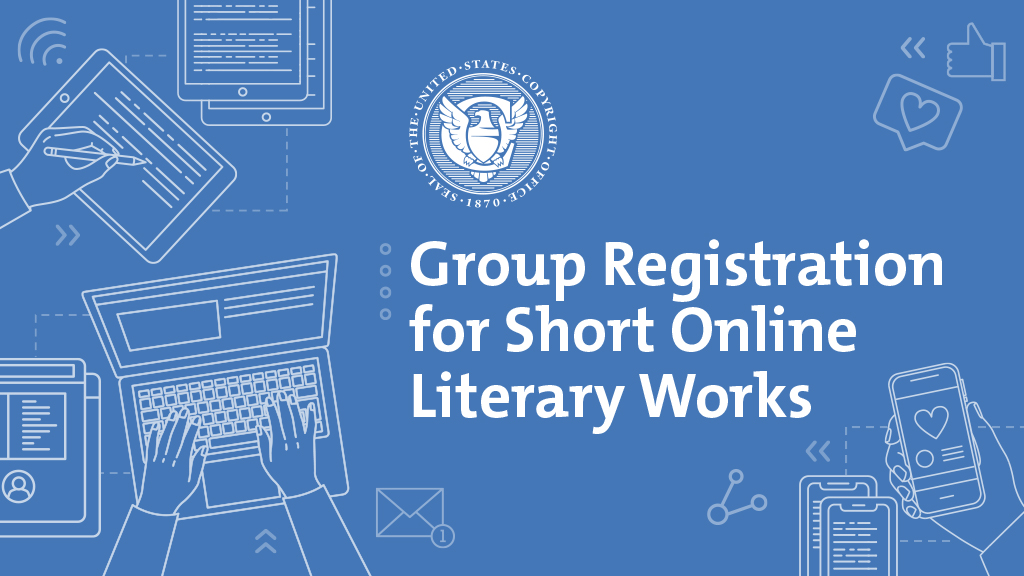 As of October 29, creators of short online literary works—such as blog posts, social media posts, and online articles—can use a new group registration application being offered by the Copyright Office.
The Group Registration for Short Online Literary Works (GRTX) may be used to register up to fifty short online literary works, with one application and one filing fee. To qualify, each work must be made up of at least 50 but no more than 17,500 words. The works must be written by the same individual, or co-written by the same individuals, and each writer must be named as the copyright claimant or claimants for each work. The works must be first published online within a three-calendar-month period. If the Office registers the claim, the registration will cover the text in each work as a separate work of authorship.
To register works under this option, applicants must submit the online application designated for short online literary works through the electronic registration system (eCO) and upload a ZIP file containing a separate digital copy of each work.
The Office initiated a rulemaking to create the GRTX process in December 2018. The Office received eight comments in response to the proposed rule from several stakeholder groups and individual authors. The Office issued a final rule implementing this option on June 3 that largely adopted the eligibility requirements in the proposed rule, with certain modifications in response to the comments. The Office held a webinar on July 15, 2020, to explain the GRTX process.
For more information on the GRTX process, please visit the Copyright Office website.