Copyright Office Announces Claims Board Is Open for Filing
Issue No. 969 - June 16, 2022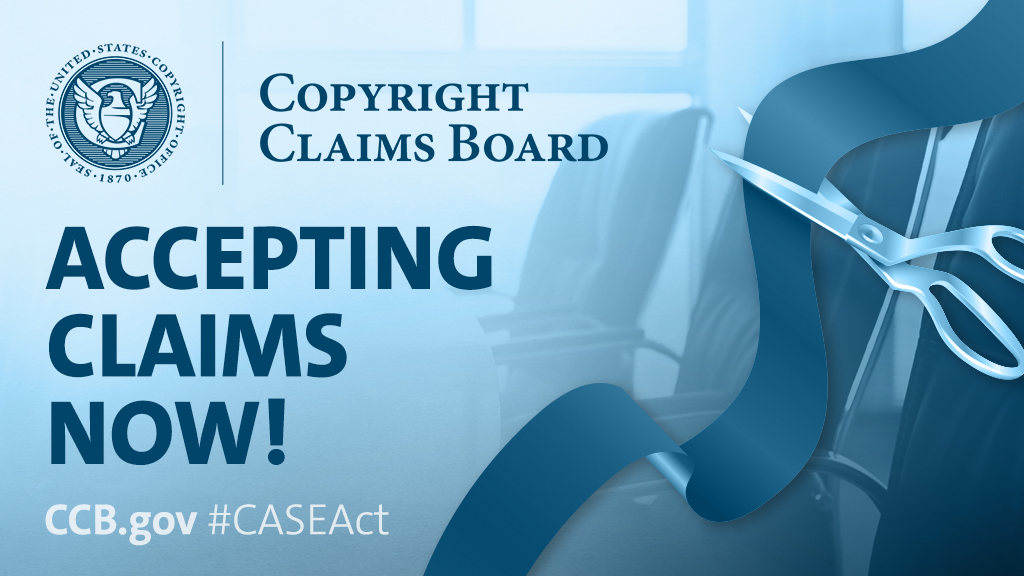 Today, June 16, 2022, the United States Copyright Office announces that the Copyright Claims Board (CCB) is officially open to hear certain copyright disputes involving claims of up to $30,000. Parties can now file a claim, opt out of a proceeding, reference CCB Handbook materials, and contact the CCB with questions on ccb.gov.
In December 2020, Congress directed the Copyright Office to establish the CCB through the enactment of the CASE Act. As the first copyright small claims tribunal in the United States, the CCB is a voluntary, alternative forum to the federal courts. Eligible claims include those for copyright infringement, declarations of noninfringement, or misrepresentations in notices or counter-notices under the Digital Millennium Copyright Act (DMCA). The CCB uses streamlined, affordable procedures and is staffed by experienced copyright lawyers.
"We are thrilled to be opening the CCB's doors today," said Shira Perlmutter, Register of Copyrights. "The Copyright Office, the Library of Congress, and the CCB staff have worked hard over the past year and a half to achieve this exciting milestone. The CCB has been designed to be user-friendly and will contribute to the Office's goal of Copyright for All, which aims to make the copyright system as understandable and accessible to as many members of the public as possible, including individuals and small businesses."
As of today, potential claimants can register for eCCB, the CCB's electronic case management and filing system. For more information on filing a claim, what happens after one is filed, and responding to or opting out of a claim, visit ccb.gov. Libraries and archives can continue to submit preemptive opt outs, and businesses can continue to designate representatives to receive claims on their behalf on ccb.gov.
Visit ccb.gov and subscribe to CASE Act email notifications for more information.