The 19th Century
Highlight: Supreme Court Decides First Copyright Case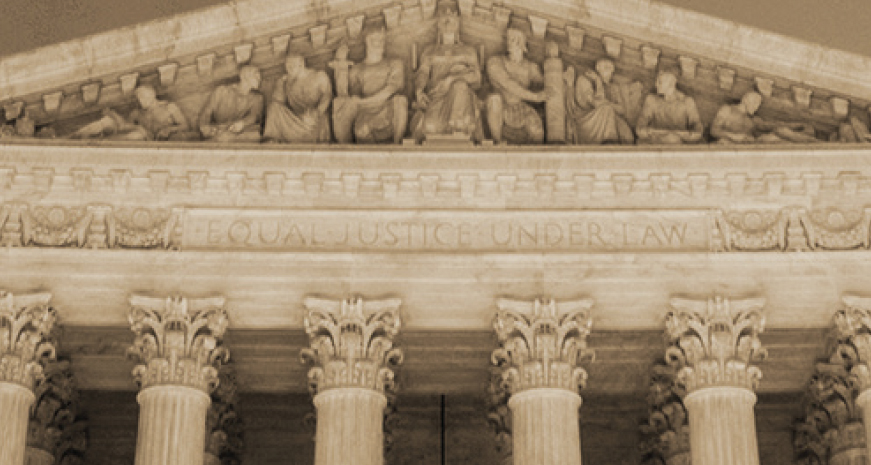 The Supreme Court did not decide its first copyright case, Wheaton v. Peters (1834), until over forty years after the 1790 act was established. In reviewing the copyrightability of what is now the United States Reports, the Supreme Court established that Congress had the power to require conditions for copyright, that common-law copyright did not exist in published works, and that no one could copyright court opinions but could copyright summaries or the opinions of others.
The dispute was between a court reporter, Henry Wheaton, who was in charge of publishing the Supreme Court's opinions, and his successor, Richard Peters Jr., who published Wheaton's series of court reports without his consent. In an opinion by Justice John McLean, the Supreme Court rejected Wheaton's claim of copyright under the 1790 act for failure to adhere to the act's deposit provisions as well as under common law. It ruled that "no one can have a copyright who does not substantially comply with the requisitions of the law." It also stated, "no reporter has or can have any copyright in the written opinions delivered by this court and the judges thereof cannot confer on any reporter any such right."
This case is of enormous importance since it established that copyright is not a natural right, but derived from statute and subject to the condition it imposes. Some of the most famous litigators of the day argued before the Court; Daniel Webster and Elijah Paine Jr. represented Wheaton, while Charles Jared Ingersoll and John Sergeant represented Peters.
International Copyright

Copyright Firsts

History of the Copyright Office

Copyright Law

Copyright in the Courts

Highlights of Registered Works
Prints Are Protected

April 29, 1802

The 1790 act is amended to include "historical and other prints" and to require, for the first time, that copyright owners add a prescribed notice to every copy of a work distributed to the public.

The Macedonian Is Registered

December 22, 1813

George Godsell Thresher registers etchings depicting the battle of the USS United States and the HMS Macedonian. Charles Clinton, District Court clerk for the Southern District of New York, annotates the registration with a freehand drawing depicting the copyright deposit.

First General Revision of Law

February 3, 1831

The first general revision of copyright law adds musical compositions to protected works. The first term of protection increases to twenty-eight years with privilege of renewal for another fourteen years.

First Musical Work Is Registered

February 23, 1831

"Maid of My Love" by David L. Richardson and I.T. Norton is registered in the Eastern District of Pennsylvania.

First Landmark Supreme Court Ruling

March 19, 1834

In Wheaton v. Peters, the Supreme Court rules that an author has perpetual rights in unpublished works, but after publication, rights are limited by statutory provisions imposed by Congress. The case lays the groundwork for modern U.S. copyright jurisprudence.

Recordation of Copyright Assigments Begins

June 30, 1834

The law is amended to require recordation of copyright assignments.

Leaves of Grass Is Registered

May 15, 1855

Poet Walt Whitman registers Leaves of Grass with the U.S. District Court in the Southern District of New York.

Dramatic Works Are Protected

August 18, 1856

Copyright protection is extended to dramatic compositions, including, for the first time, the right of public performance.

Ainsworth Rand Spofford Becomes Librarian of Congress

December 31, 1864

President Abraham Lincoln appoints Ainsworth Rand Spofford to be the sixth Librarian of Congress. Spofford serves as de facto Register of Copyrights until the position of Register is established in 1897.

Photographs Are Protected

March 3, 1865

A new law extends copyright protection to photographs and photographic negatives.

Second General Revision of Law

July 8, 1870

The second general revision of the law centralizes copyright activities, including registration and deposit, in the Library of Congress. It also extends protection to works of art and gives authors the right to create their own derivative works, including translations and dramatizations. The indexing of registration records begins.

First Work Registered for Copyright in the Library of Congress

July 10, 1870

San Domingo, a travel account by De Benneville Randolph Keim, is the first work registered for copyright in the Library of Congress.

Statue of Liberty Is Registered

August 31, 1876

French sculptor Frédéric-Auguste Bartholdi registers the Statue of American Independence, depositing a photo model and artistic rendering of how the statue was to appear against the New York skyline.

Supreme Court Rules Ideas Not Copyrightable

January 19, 1880

The Supreme Court holds in Selden v. Baker that even though copyright law protects the expression of an idea, it does not protect the idea itself. The ruling influences many subsequent court decisions and copyright doctrines.

Oscar Wilde Photograph Is Subject of Copyright Ruling

March 17, 1884

In Burrow-Giles Lithographic Co. v. Sarony, the Supreme Court upholds the copyrightability of photographs. Napoleon Sarony, a well-known photographer of theatrical stars, photographed Irish author Oscar Wilde in 1882 when Wilde visited New York.

First Multilateral International Copyright Treaty

September 9, 1886

The Berne Convention for the Protection of Literary and Artistic Works, the first multilateral international copyright treaty, is signed in Berne, Switzerland. The United States is represented at the conference but does not sign.

United States Protects Foreign Works

March 4, 1891

President Benjamin Harrison signs the International Copyright Act of 1891, the first U.S. copyright law authorizing establishment of copyright relations with foreign countries.

Catalog of Title Entries

July 1891

Records of works registered, now called the Catalog of Copyright Entries, is published in book form for the first time.

First Foreign Work Is Registered

July 3, 1891

The Macmillan Company files a claim to copyright Saints and Sinners by English dramatist Henry Arthur Jones.

Copyright in Government Publications Is Prohibited

January 12, 1895

The Printing Act of 1895 contains the first statutory prohibition of copyright in U.S. government publications.

Public Performance Right for Musical Compositions

January 6, 1897

The U.S. Copyright Amendment Act of 1897 protects music against unauthorized public performance.

Copyright Office Established

February 19, 1897

A government appropriations bill establishes the Copyright Office as a separate department within the Library of Congress and creates the position of Register of Copyrights. Before the Library's Jefferson building opened the same year, an unceasing flow of deposits piled up in cramped Library quarters.

First Register of Copyrights Is Appointed

July 22, 1897

Boston book dealer and copyright expert Thorvald Solberg is appointed the first Register of Copyrights.
---