Provisional Information Technology Modernization Plan and Cost Analysis
Provisional Information Technology Modernization Plan and Cost Analysis
---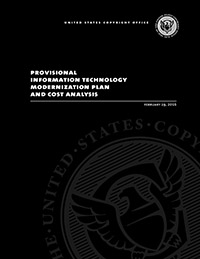 The U.S. Copyright Office has prepared a Provisional Information Technology Modernization Plan and Cost Analysis at the direction of the House Committee on Appropriations. See H. Rep. No. 114-110 (2015). The Committee directed the Register to advise on the IT upgrades, with a cost estimate, that are "required for a 21st century copyright organization." The Committee further noted the "importance of the Copyright Office as it relates to creativity and commercial artistic activity not only within the United States but also on a world-wide basis."
The Copyright Office has spent several years engaged in a deliberative public process to lay the groundwork for a modern copyright system, with an eye toward the necessary integration of law, business and IT. The combination of these elements is set forth in the overall strategic plan entitled Positioning the United States Copyright Office for the Future, 2016-2020, published December 1, 2015.
The IT Plan provides for an architecture that can meet the current and future needs of a modern copyright agency by minimizing costly infrastructure requirements, embracing cloud services, and utilizing mobile technologies. When this plan is implemented, the Office will, among other things, be able to accept copyright registrations through third-party apps on mobile devices and offer direct, real-time access to the Office's database of information about copyrighted works through an API. This plan will be further refined in the coming months working with Congress, the Library and Copyright Office customers.
Further to the Committee's request, the United States Copyright Office published a Notice of Inquiry seeking public comments on a series of questions related to funding strategies and implementation timeline for its IT Plan. Comments were due on March 31, 2016 and are available for review here.
---