International Copyright Institute (2016)
Copyright in a Global Network: Emerging Issues in Copyright and Related Rights for Developing Countries and Countries in Transition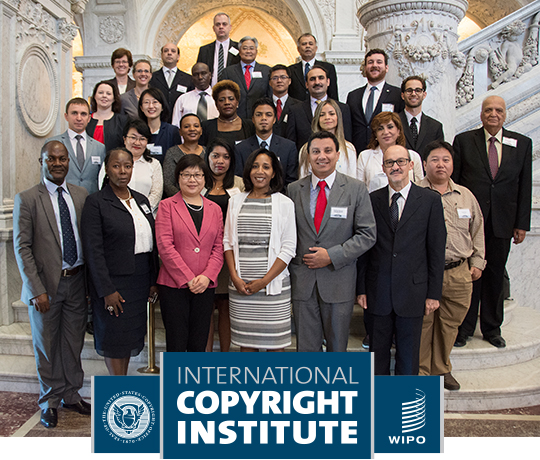 U.S. Copyright Office Hosts 2016 International Copyright Institute Training for Copyright Officials from 22 Countries
On June 6-10, 2016, the United States Copyright Office and World Intellectual Property Organization (WIPO) co-hosted the International Copyright Institute, a symposium held in Washington, D.C. The week-long program is one of the Copyright Office's premier training events and brought together senior-level copyright officials from twenty-two countries to hear from more than fifty government, private industry, and civil society experts on emerging issues in copyright law and policy.
Highlighting the event were keynote speeches by Register of Copyrights Maria A. Pallante and U.S. Representative Judy Chu as well as a presentation by Ros Lynch, Copyright and IP Enforcement Director at the United Kingdom Intellectual Property Office. Participants learned about a range of issues including the role of limitations and exceptions, new distribution models and digital content, modern copyright registration systems, enforcement challenges, and collaboration on voluntary measures.
The following countries were represented at the symposium:
Afghanistan
Argentina
Brazil
Cambodia
China
Colombia
Egypt
Haiti
Jamaica
Kenya
Lebanon
Madagascar
Malaysia
Mauritius
Mongolia
Namibia
Nigeria
Paraguay
Thailand
Ukraine
Uruguay
Vietnam
The agenda for the program can be found here.