International Copyright Training (2012)
Emerging Issues in Copyright and Related Rights for Developing Countries and Countries with Economies in Transition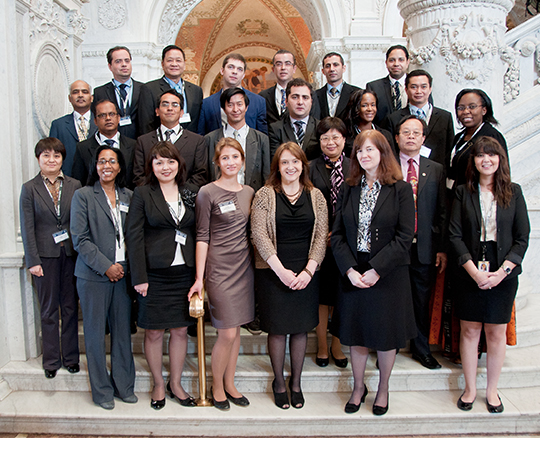 U.S. Copyright Office Hosts 2012 International Copyright Training Program for Copyright Officials from 17 Countries
From March 19-23, 2012, the Copyright Office hosted an international training symposium for developing countries and countries in transition on emerging issues in copyright and related rights. The week-long training symposium, which was co-sponsored by the World Intellectual Property Organization (WIPO), brought together senior-level copyright officials from 17 countries to hear from more than 50 government, private industry, and civil society experts on a range of emerging issues in copyright law and policy, including collective management, mass digitization, enforcement challenges, exceptions and limitations, and the balance between copyright and freedom of expression on the internet.
Highlights of the program included opening remarks by Register of Copyrights Maria Pallante and a keynote speech by Congressman Melvin L. Watt (D-NC), Ranking Member of the House Subcommittee on Intellectual Property, Competition and the Internet. Participants learned about collective management in Kenya from the head of the Kenya Copyright Board and received a detailed history and overview of various international treaties involving copyright from the Chairman of the Central and Eastern European Copyright Alliance. Participants also discussed the latest developments in WIPO's Standing Committee for Copyright and Related Rights (SCCR) and participated in a lively debate about the current copyright challenges facing libraries and archives. They also heard from various industry experts about current trends and developments in copyright licensing models.
The following countries were represented at the symposium:
Brazil
Cambodia
China
Georgia
India
Jamaica
Kazakhstan
Kenya
Lebanon
Lithuania
Mauritius
Mexico
Peru
Philippines
Russian Federation
Trinidad and Tobago
Vietnam
The agenda for the program can be found here.