Donald Curran
Acting, 1985
---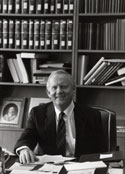 Upon the resignation of Register of Copyrights David Ladd, Donald Curran served as Acting Register from January 3, 1985, to September 10, 1985, when Ralph Oman assumed the position of Register of Copyrights.
Curran was born in St. Louis and educated in the public schools there. From 1953 to 1957, he served in the U.S. Air Force as a lieutenant flying B-36 airplanes and as an engineering officer with the Strategic Air Command. In 1959, he graduated cum laude and first in his class from St. Louis University with a bachelor's degree in industrial relations. He worked briefly in the Bureau of Old Age and Survivor Insurance in Baltimore before he was awarded a 1960 graduate teaching fellowship in public administration by George Washington University in the District of Columbia.
In April 1961, Curran joined the staff of the Library of Congress as an administrative assistant to the executive officer of the Legislative Reference Service. From 1961 to 1969, he worked in increasingly responsible positions as an administrative officer and as a management analyst in the Legislative Reference Service, the Reference Department, and the Administrative Department. He conducted a number of management improvement studies during this time that resulted in organizational and procedural changes.
In 1969, Curran transferred to the Budget Office to become the assistant budget officer. A year later he was promoted to budget officer. In November 1973, he became chief of the Financial Management Office. He held that position until he was promoted to Associate Librarian of Congress in 1976.
He returned to the Copyright Office in 1996 when Librarian of Congress James Billington asked him to undertake the first systematic outside study of the Office's work procedures. Curran examined Copyright Office programs and activities, including managerial and operational functions, electronic registration, and the links between the Library and the Copyright Office that benefitted each. He was also tasked with studying the fee structure and costs to operate the Office. He assembled focus groups of staff and met with one hundred employees over a six-week period.
His report, entitled Copyright Management Report, prefigured many of the changes that have recently taken place in the Copyright Office, such as combining the cataloging and examining functions, developing electronic registration, structuring fees to recover costs, and facilitating the establishment of record controls at an earlier time in the registration process.
Curran retired from the Library of Congress in January 1997 as senior advisor for program planning and evaluation. He died on November 9, 2011, at the age of 76.