Karyn A. Temple, 2019–2020
Acting, 2016-2019
---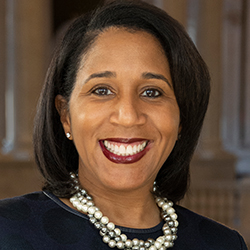 Karyn A. Temple was Register of Copyrights from March 27, 2019, through January 3, 2020. She directed the administration of important provisions of the U.S. Copyright Act and oversaw the continued modernization of Office services. Temple is the first and only person of color yet to have served as Register.
Prior to her appointment, Temple held various roles within the Copyright Office: as Acting Register of Copyrights from October 21, 2016, to March 26, 2019; as Associate Register of Copyrights and Director of Policy and International Affairs from January 30, 2013, to October 21, 2016; and as senior counsel for policy and international affairs from 2011 to 2013. She spearheaded several of the Office's International Copyright Institute (ICI) training programs for senior-level copyright officials from developing countries and countries in transition. She also served as a lead Copyright Office negotiator on official delegations to the World Intellectual Property Organization, including at diplomatic conferences for two international copyright treaties: the Beijing Treaty on Audiovisual Performances (2012) and the Marrakesh Treaty to Facilitate Access to Published Works for Persons Who Are Blind, Visually Impaired or Otherwise Print Disabled (2013).
Before joining the Copyright Office, Temple served as senior counsel to the deputy attorney general of the United States, assisting with formulating U.S. Department of Justice policy on sensitive legal issues and helping to manage the department's Task Force on Intellectual Property. She also spent several years at the Recording Industry Association of America and in private practice at the law firm Williams & Connolly, LLP. She began her legal career as a trial attorney for the U.S. Department of Justice Civil Division through its Honors Program and served as a law clerk to the Hon. Nathaniel R. Jones of the U.S. Court of Appeals for the Sixth Circuit. Temple earned a JD from Columbia University Law School, where she was senior editor of the Columbia Law Review and a Harlan Fiske Stone Scholar. She earned a BA in English from the University of Michigan.
During her tenure as Register and Acting Register, Temple focused extensively on positioning the Office to meet the needs of a digital world. In May 2019, she launched a new strategic plan for 2019–2023, Copyright: The Engine of Free Expression, which emphasized modernizing information technology, optimizing business processes, promoting organizational change management, providing impartial legal and policy expertise, expanding education and engagement, and using data to support evidence-based decision-making.
Temple testified multiple times before the judiciary committees of the U.S. Senate and the U.S. House of Representatives, including at the first Copyright Office oversight hearing before the Senate in nearly ten years. For the first time, Congress allocated funds specifically for IT modernization, enabling the Office to continue modernizing the enterprise copyright system.
In 2018, Temple established the Copyright Modernization Office to oversee the business aspects of the Office's modernization activities and launched business process reengineering and organizational change management initiatives. Also in 2018, the Office released the online Virtual Card Catalog, providing access to more than 40 million public Copyright Office records from 1870 through 1977.
Under Temple's leadership, the Office eliminated its backlog of pending workable copyright registration claims, reduced claims pending more than one year by over 90 percent, and decreased overall processing times for registration applications by more than 40 percent. Temple delivered to Congress a seminal study on moral rights in the United States, Authors, Attribution, and Integrity: Examining Moral Rights in the United States; the discussion document Section 108 of Title 17, and the policy study Section 1201 of Title 17. She also led the Office's involvement in legal briefs for seven cases filed before the U.S. Supreme Court, including Star Athletica, L.L.C. v. Varsity Brands, Fourth Estate Public Benefit Corporation v. Wall-Street.com, LLC, and Google LLC v. Oracle America, Inc.
Temple directed the successful implementation of several key provisions of the historic Music Modernization Act of 2018 (MMA), including the designation of the Mechanical Licensing Collective (MLC) and Digital Licensee Coordinator (DLC), the establishment of a new process for pre-1972 sound recordings now covered by federal law, and the launch of an MMA website and related outreach.
Temple also expanded the Office's outreach and education efforts. The Office initiated a Copyright Information Station pilot program with U.S. libraries in the DC area to increase public access to copyright resources, including at Alexandria City libraries, Loudoun County libraries, and the Howard University Founders Library. The Office also began a series of modernization webinars and laid the groundwork for a greater online presence through the development of educational videos on copyright.