Forms
Notice
Please be aware that when you register your claim to a copyright in a work with the U.S. Copyright Office, you are making a public record. All the information you provide on your copyright registration is available to the public and will be available on the Internet.
---
Registration with Paper Forms
The fee for a basic registration using one of these forms is $85 payable by check or money order. Form CON (continuation sheet for applications) is also still available in paper. Paper forms are also available by postal mail upon request. Short forms are no longer available online.
Form CON — Continuation Sheet used in conjunction with forms below when more space is necessary.
Form CA (Read more), fee: $130
Form CA w/instructions, fee: $130
Renewal
— For renewal of claims of copyright
Form RE, fee: $100
Form RE/CON — Continuation form to be used only in conjunction with RE application form, fee: $100
Addendum to Form RE — For all works published between January 1, 1964, and December 31, 1977, that were not registered during their first 28-year term. Must accompany form RE, fee: $100
Types of Applications that Must Be Completed on Paper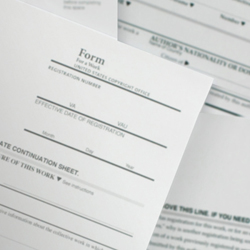 Certain applications must be completed on paper and mailed to the Copyright Office with the appropriate fee and deposit. Those application forms appear below and under the 'Additional forms tab'.
Copyright Office application forms are available in PDF format and should be viewed with the latest, free Adobe Acrobat Reader program. For best results, fill in the form on-screen and then print it. To save completed forms, you must use the full version of Adobe Acrobat.
Literary Works
Form GR/CP w/instructions — For groups of literary works published as contributions to periodicals (Read more)
Performing Arts
Form GR/CP w/instructions — For groups of performing arts works published as contributions to periodicals (Read more)
Visual Art
Form GR/CP w/instructions — For groups of visual art works works published as contributions to periodicals (Read more)
Form GR/PPh/CON — For groups of published photographs (Read more)
Serials
Form SE/Group — For groups of serial publications, such as newspapers, magazines, newsletters, journals, etc. (Read more)
Newspapers and Newsletters
Form G/DN — For groups of daily newspapers or newsletters (Read more)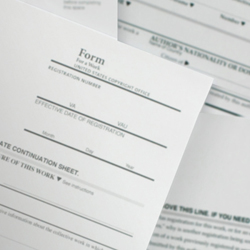 Vessel Hull Design Forms
— For further information, see
Registration of Designs of Vessel Hulls
Form D-VH Fill-in version — for registration of vessel hull designs
Form D-VH w/instructions Fill-in version — for registration of vessel hull designs
Form D-VH/CON Non Fill-in version — continuation sheet and for multiple designs
Form DC — application to correct a design registration
Form DVH-ID — recordation of distinctive identification of owner of vessel hull designs
Masks works — For 3-dimensional patterns fixed on a semiconductor chip (not for theatrical facial masks)
Form MW/CON— Continuation sheet to be used only in conjunction with MW application form
Preregistration
— For certain works that have had a history of prerelease infringement
Recordation
— For use when submitting transfers and other documents
URAA
— For restored works
Form GATT
Form GATT/CON — Continuation form to be used only in conjunction with GATT application form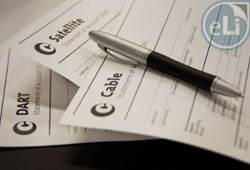 Cable Statement of Account Forms
— for semiannual accounting periods beginning January 1, 2012
SA1-2 Short Form — For use by cable television systems whose semiannual gross receipts are less than $527,600
SA3 Long Form — For use by cable television systems whose semiannual gross receipts are $527,600 or more
Old Cable Statement of Account Forms
Satellite Statement of Account Form
— for semiannual accounting periods beginning January 1, 2014
Digital Audio Recording Products
—
Statement of Account Forms
Quarterly Statement of Account Form
Annual Statement of Account Form
Initial Notice of Distribution of Digital Audio Recording Devices or Media
Notice of Use Form
M-269 Form — Notice of Use of Sound Recordings under Statutory License
Licensing Electronic Funds Transfer Form
- For use by statutory licensees to receive refund payments via electronic funds transfer