Events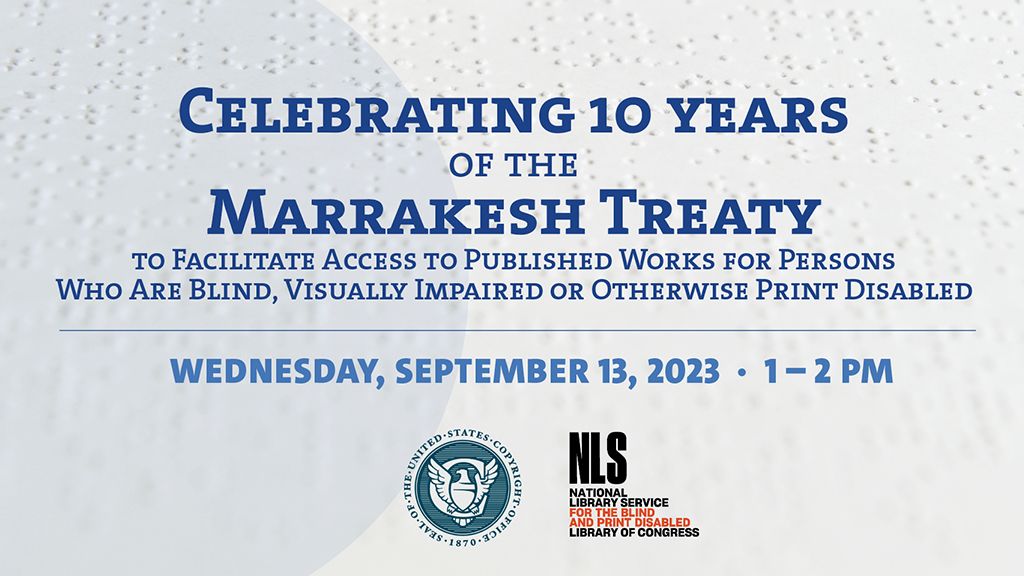 Featured Event
September 13, 2023 at 1:00 p.m. eastern time
Online Event
Description:
This event celebrated the tenth anniversary of the adoption of the Marrakesh Treaty to Facilitate Access to Published Works for Persons Who Are Blind, Visually Impaired, or Otherwise Print Disabled.
The U.S. Copyright Office cohosted this event with the National Library Service for the Blind and Print Disabled. The leaders of these organizations discussed their personal knowledge of the development of the treaty and shared their understanding of its relevance and impact domestically and internationally.
Speakers:
Shira Perlmutter, Register of Copyrights and Director of the U.S. Copyright Office
Jason Broughton, Director of the National Library Service for the Blind and Print Disabled
Nancy Weiss, one of the members of the 2013 U.S. Delegation to the Diplomatic Conference where the Marrakesh Treaty was adopted, moderated the discussion panel.
Copyright Office Presents
Copyright Office Presents is a community forum of the U.S. Copyright Office that discusses the practical implications of copyright law in the 21st century, provides education and training to the staff of the U.S. Copyright Office, and offers programming for the public. A wide range of invited speakers - including Congressional leaders, authors and performers, company representatives, legal scholars, and Copyright Office staff - have delivered presentations on issues of topical importance since the series started in 2011. Lectures and events take place at the historic Library of Congress and include discussions on issues such as authorship, copyright registration, marketplace developments, fair use, international norm setting, copyright enforcement, and other issues related to copyright law in the digital age.
If you have an idea for an event or would like us to speak at your event, please let us know here.
Want to be the first to know about our upcoming events?
Subscribe to our Copyright Events email list.
Past Events
---
Public Symposiums
---
Special Events
---
Recorded Events
---
International Copyright Events
NOTE:
For public hearings please consult the Federal Register Notices.