Events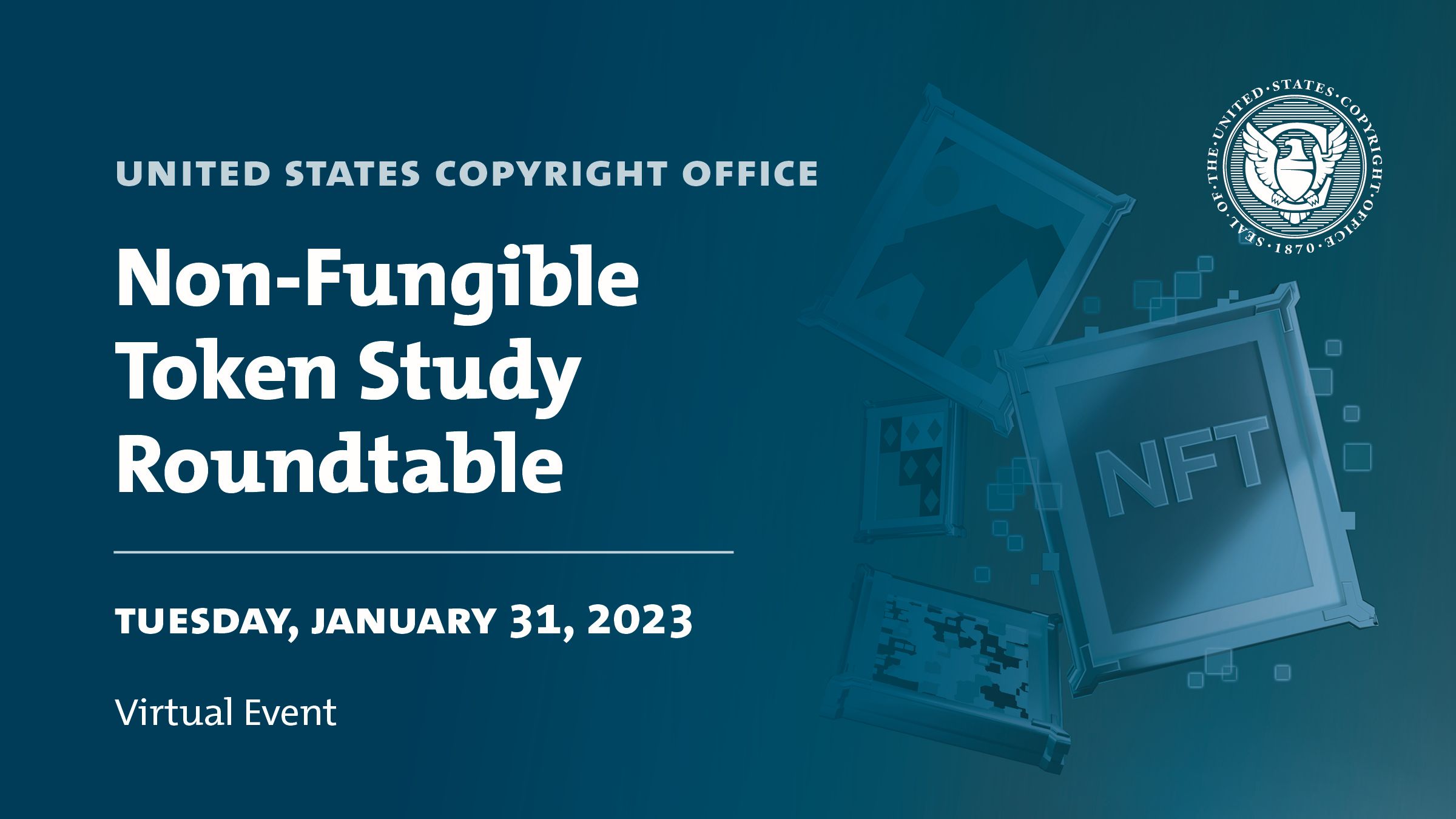 Featured Event
NFT Roundtables
Copyright: Tuesday, January 31, 2023
Trademarks: Tuesday, January 24, 2023
Patents: Thursday, January 26, 2023
10:00 a.m. eastern time.
Online Events
Description:
At the request of Congress, the Copyright Office and U.S. Patent and Trademark Office are conducting a joint study on the intellectual property law and policy issues arising from the use of non-fungible tokens (NFTs). As part of the study, the Offices are inviting the public to three roundtables on trademarks, patents, and copyright.
To view the roundtables live, registration is required. Zoom closed captioning will be enabled. Reach out to the Copyright Office in advance to request accommodations. The Office will make recordings of the roundtables available for public viewing.
To learn more and register for the roundtables, visit the NFT study web page.
Want to be the first to know about our upcoming events?
Subscribe to our Copyright Events email list.
Copyright Office Presents
Copyright Office Presents is a community forum of the U.S. Copyright Office that discusses the practical implications of copyright law in the 21st century, provides education and training to the staff of the U.S. Copyright Office, and offers programming for the public. A wide range of invited speakers - including Congressional leaders, authors and performers, company representatives, legal scholars, and Copyright Office staff - have delivered presentations on issues of topical importance since the series started in 2011. Lectures and events take place at the historic Library of Congress and include discussions on issues such as authorship, copyright registration, marketplace developments, fair use, international norm setting, copyright enforcement, and other issues related to copyright law in the digital age.
If you have an idea for an event or would like us to speak at your event, please let us know here.
Past Events
---
Public Symposiums
---
Special Events
---
Recorded Events
---
International Copyright Events
NOTE:
For public hearings please consult the Federal Register Notices.